COVID-19 Meadowbank Pony Club
Under level 4 alert, travel to care for animals, including horses, is allowed. This includes providing our animals with food, water and any other aspect that we need to provide to meet our responsibilities under the Animal Welfare Act and relevant codes of welfare.
Please note we are restricting visits to the club so that only those in the same social bubble visit their horse, and each paddock group only has one person at a time checking on the horses to feed and/or ride. Our members have been asked to ride in separate arenas and keep a 5m distance if they happen to see anyone else at the facility.
We are being extremely vigilant when going through gates, touching common areas and all members are using sanitiser and washing their hands before/after entering the grounds.
Horse riding
Horse riding is allowed within the boundaries of the property on which the horses are kept. Our members have been asked to reduce riding to safe flat work only (no jumping) and reduce the amount of rides to the minimum requirement for their horses well-being.
Members of the public
Whilst we would love you to watch our horses on your family walk, please do not pat or feed the horses – whilst not harmful to horses the virus can live on an animals coat. As we are visiting our horses less, we appreciate the extra eyes on our beloved animals, if you see any horse in trouble or are concerned please call the pony club president on 021 0833 2375.
Many thanks, Meadowbank Pony Club
A POCKET OF PARADISE IN A BUSY URBAN LANDSCAPE
Meadowbank Pony Club is a friendly, inner city pony club located in Meadowbank, Auckland. We have been operating since 1968 and lease approximately 100 acres of land from Transit NZ and the Auckland City Council. We graze 25-45 horses per year and have about 40 member families. Together parents and children voluntarily run this non-profit working city farm. We welcome enquiries from potential new members or horse owners interested in grazing. We also organise pony parties for budding young horse lovers.
Meadowbank Pony Club is active in all facets of the local community
Whilst primarily a pony club for those under 25, the MPC development program includes leadership, mentoring, organisation and safety skills. Most of our members are also involved in other sports or community clubs. Several represent their schools in equestrian teams and also undertake various development endeavours, such as the Duke of Edinburgh Awards.

Meadowbank Pony Club supports community needs programs, including SPCA and local schools. Members, families and friends support local businesses in our community (particularly MPC sponsors).
Riders without horses - Junior Equine Skills Certificate
Learn all about horses at Meadowbank Pony Club!
This new program is ideal for keen junior horse lovers who don't own a horse (yet!).
Includes weekly lessons on Horse Care and Management.
Lessons will include classroom and hands-on time with qualified instructors.
All participants can earn the new NZ Pony Club Junior Equine Skills Certificate.
Starting Thursdays Term 4.
Email: equineskills@mpc.kiwi.nz
We have approximately 100 acres of land for year-round grazing and summer hacking. Click here to enquire about becoming a Meadowbank Pony Club member.
Birthday parties with pony rides
Meadowbank Pony Club is delighted to be able to offer 3 hour birthday parties with one hour worth of pony rides (the children are led around one of our arenas) and full use of our clubhouse facilities.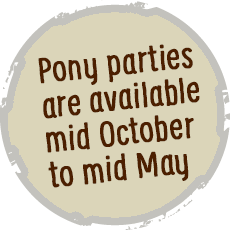 Pony parties are suitable for a maximum of 12 children, aged between 4-11 years old. They are run during the summer season only, due to better weather conditions.
Fees are $400. A $50 cash bond is required to confirm the booking and to ensure the clubhouse is left in a clean and tidy state after the party. Pony party fees help with the upkeep of this beautiful inner-city pony club and working farm.
For more information email parties@mpc.kiwi.nz.